The Master's Work
A century ago, the castle was restored and part of the tower and other builidings were destroyed and the flint was used to paving the court yard. Despite of this, some jambs and windowswills were preserved as the two marble windows of the tower, re-opened after they were been walled up.
Also the entrance of the castle walls remained the same, even if part of the walls were ruined; the internal walls were unaltereted , as the vault of the basement and the ancient cavern.
The area became a manor farm, the arch walls on via Cassia were walled up to build a stable; the stair in the countyard became ramp for the donkeys.
The medieval tower destroyed by men and storms, was recovered with a double level roof; inside, there was a kitchen and a little granary, used as a warehouse until 1929, when the current owner Comm. Carlo Grazioli called the architect Lorenzo Cesanelli to renovate the area.
The west arcade was re-opened and renovated with the longitudinal wall, the tower was re-opened as well with its little windows opened on via Cassia Antica and the ramp was destroyed showing tracks of the ancient stair.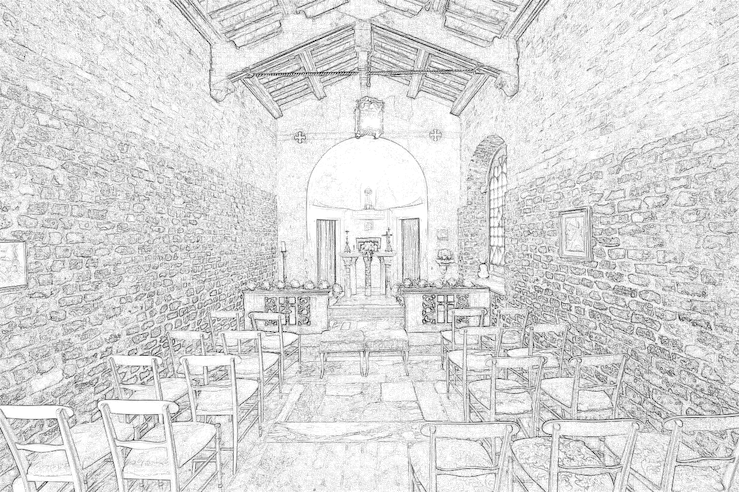 A little ruined bridge connected the west and the north part of the area, so it was renovated and finished, as the big environment of the ground floor, where you can see the unique pitched roof, the ancient hood and the precious plasters on the walls.
At the right side of the main entrance, a small door invites you in the chapel, a rectangular environment with the apsis in the bottom and the ancient wall of bricks.
The pitched roof was renovated with two grades, using recycling materials; the pavement made by terracotta diamonds end to a granite step, as large as the chapel is, sorrounded by ancient mosaic.
On the right side, beside the countyard, there is a boulevard sorrounded by cypress going until a big gate opened to via Cassia, with coloumn and roof perfectly integrated in the external environment.
The castle of Spizzichina is back to the ancient glory, with its beautiful tower where pigeons fly to the sunset; all around, between peaceful green fields, the sun shine over the glorious city of Rome.